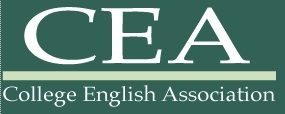 What makes a CEA conference so unique? The annual CEA conference is more than the typical conference.  It includes book giveaways from over forty publishers, tours of the host city, Friday night entertainment, lots of casual networking with congenial colleagues, a wide variety of papers focused on every aspect of English instruction, and the president's reception with appetizers and a free drink. It's clearly "user friendly"! After attending one conference, most attendees continue to present at future conferences.
The College English Association held its annual conference in March in San Antonio, where over 500 papers and panels were presented on a wide variety of matters primarily focused on the conference theme, Voices, but including traditional areas of pedagogy, theory, rhetoric, technical writing, creative writing, and literature in the canon. Presenters came from nearly every state and countries including Sweden, Kuwait, Australia, the Sudan, and Nigeria. There were other less conventional panels as well:
Book History
Peace
Learning Outcomes
Literature and Law
Graphic Novels
Afro-Caribbean Literature
Distance Learning
Psychology and Literature
Teacher Education
Pop Culture
Academic Leadership and Administration
Featured speakers included:
Plenary:  Geshe Thupten Dorjee and Sydney Burris, University of Arkansas – Fayetteville   "Visual Narratives: Tibetan Buddhist Philosophy in Exile"
Diversity Luncheon:  Naomi Shihab Nye, "Merci & Shookrun: Bounty of a Beautiful World  (Some thoughts on reading and writing from a wandering poet)"
Women's Connection Reception:  Norma Cantu, University of Texas – San  Antonio  "De aqui de este lado: Chicano Border Writers"
All-Conference Luncheon:  Jason Hall, University of Exeter, Cornwall. England "Versification and the Voice: Some Curious Metrical Histories"
Congratulations to Mary-Catherine Harrison, University of Detroit, Mercy, this year's winner of the College English Association's Robert Hacke Scholar-Teacher Award for her proposed research topic, "The Ethics of Empathy: An Empirical and Qualitative Survey of Narrative Empathy and Belief Change."
Michiganders on the program included: Adrian Miller, University of Michigan; Raye Robertson, Wayne State University; Martha Perkins, Olivet College; K.E. Birdsall, Michigan State University; Robert Stevens, Eastern Michigan University; Elizabeth Monske, Northern Michigan University; Linda Learman, Adrian College; Beth Myers, Adrian College; S. Keyron Mc Dermott, Kirkwood Community College; Nancy Shattuck, Wayne State University; Bernie Miller, Eastern Michigan University; Ed Demerly, Henry Ford Community College
The following panel of speakers from Northern Michigan University presented at a session titled, "Empowering the English Classroom: Enhancing Student Voice", Kia Jane Richmond, Erica Mead, Amanda Staley, Elena Shaw, Jenna Dennings, Adam Gray, Brenda Bancroft, Joe Slocum
Next year's conference will be held in St Petersburg, Florida, March 31 – April 2, 2011. The conference theme, Fortunes, encourages a wide variety of applications in all areas of English. The CEA welcomes papers given at the conferences of its regional affiliate organizations, so if members present at Henry Ford Community College in October, they may submit that same proposal by the November 1st deadline for consideration by the CEA. For further information, contact the Program Chair, Craig A. Warren at cea.english@gmail.com (put "Program Chair" in the subject line).