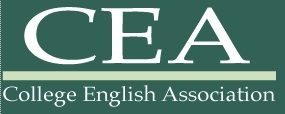 This year's CEA conference again did not disappoint. I always appreciate what makes this conference so unique and different from others. The CEA conference offers more than the typical academic gathering.  It includes book giveaways from over forty publishers, tours of the host city, Friday night entertainment, lots of casual networking with congenial colleagues, a wide variety of papers focused on every aspect of English instruction, and the president's reception with appetizers and a free drink. It's clearly "user friendly"!
The College English Association held its annual conference in March in Richmond, where over 540 papers and panels were presented on a wide variety of matters primarily focused on the conference theme, Borders, but including traditional areas of pedagogy, theory, rhetoric, technical writing, creative writing, and literature in the canon. Presenters came from nearly every state and countries including Australia, Jordan, China, and Qatar.
There were other less conventional panels as well: Book History, Peace, Thomas Merton, Religion and Literature, Graphic Novels, Afro-Caribbean Literature, Distance Learning, Trauma and Literature, Travel Literature, Teacher Education, Pop Culture, Academic Leadership and Administration, Graduate and Adjunct Faculty Concerns
Featured speakers included: Poet Laureate Rita Dove during the All-Conference Luncheon, writer Scott Russell Sanders, and Debali Mookerjea-Leonard.
There were many Michiganders on the program as well. These included: Joyce Meier, Michigan State University; Alyssa Walker, University of Michigan; Philip J. Egan, Western Michigan University; Adrienne Jankens, Oakland Community College; Lisa Barksdale-Shaw, Michigan State University; Lami Fofana-Kamara, Michigan State University; Linda Learman, Adrian College; Curtis VanDonkelaar, Michigan State University; Richard Thorsby, Wayne State University; L. Bailey McDaniel, Oakland University; Erin Banks Kirkham, Kettering University; Bernie Miller, Eastern Michigan University; and Ed Demerly, Henry Ford Community College.
The following primarily graduate student presenters from Northern Michigan Universitymade an especially impressive presence as moderators, individual presenters, and panelists. They and their leaders are to be commended for their particularly effective, enthusiastic participation. These individuals are Linda Sirois, Katherine Buel, Jack Van Treese, Gillian Podkomorka, Colin Clancy, Laura Mead, Matthew Gavin Frank, Elizabeth Monske, Laura Soldner, Luke Thominet, Elizabeth Monske, Ginny Schminke-Yaussy, Cameron Controis, Zara Moeggenberg, and John Minser.
It was also announced at the conference that regional affiliates, like Michigan CEA, are especially encouraged to invite Advanced Placement teachers and test readers to attend and participate in regional conferences this year.
Next year's conference will be held in Savannah, Georgia, April 4–6, 2013. The conference theme, Nature, encourages a wide variety of applications in all areas of English. The CEA welcomes papers given at the conferences of its regional affiliate organizations, soif members present at Grand Valley State University in October, they may submit that same proposal by the November 1st deadline for consideration by the CEA. For further information, contact the Program Chair, Kathrynn Seidler Engberg, at cea.english@gmail.com (put "Program Chair" in the subject line) or see the CEA web site at  www.cea-web.org
Ed Demerly
MCEA Liaison and CEA Past President