Michigan College English Association Conference on Friday, October 27, 2017
Themes:  Authority and Agency during Divisive Times
Place:  Eastern Michigan University, McKenny Hall, 878 W. Cross St., Ypsilanti, MI 48197
Registration and Membership Information
Name:                                                                                                                                                          
Institutional Affiliation:                                                                                                                                  
Email Address (print clearly):                                                                                                                     
I would be willing to serve as an MCEA Campus Representative (circle one):        Yes            No
(If you are unsure, please ask Janet Heller at janetheller@charter.net about these very minimal duties.)
Address—Please check below if you are a renewing member and this is a change of address.
New address?                                                                                                                                             
Will you need lunch at the MCEA conference?   Please circle one:            Yes      or       No
MCEA 2017 Fall Conference Fees
The registration fee includes your registration for the conference, the conference luncheon, and your 2017-2018 academic year membership in the MCEA.  Please make checks out to the "Michigan College English Association."
Full-time Faculty — $50.00                                                                                    $                     
Part-time, Lecturer, Adjunct, Retired Faculty, and Students — $25.00          $                     
To purchase an additional lunch for a guest who is not otherwise
attending the conference, please add $15.00.                                                       $                     
Past registration deadline, on-site registration — $10 late fee                           $  __________
I can't be at the conference, but please renew my membership — $15.00      $                     
TOTAL ENCLOSED                                                                                                  $                     
Mail this form with your check to the Michigan CEA 2017 Treasurer and Conference Registrar:
David Settle / 1749 Woodgate Dr. / Lowell, MI 49331
All registrations must be snail-mailed by Oct, 17, 2017.  All day-of-conference registrants will be assessed a $10 late fee.  The MCEA will acknowledge receipt of registration via email.  If you require an additional paper receipt, please request one at the registration table at the conference.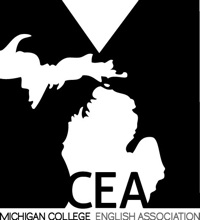 ---